For the last day of school May, 25th there will be an early out. Students will be dismissed at 11am. 
Williston Basin School District Boundary Community Discussion will be held on April 26th and April 27th starting at 5:30 PM at Hagan Elementary School. What Will this discussion look like? WBSD#7 is utilizing RSP & Associates consulting firm to guide us through a boundary discussion and decision-making process. We will host two community forums in April where RSP will gather input and feedback from all stakeholders in the community on this topic. RSP will then provide this information for the District and the Board to use to make the best decisions they can for our students and community. Boundary Discussion Timeline Phase 1 (Spring 2023) Create attendance area for only Missouri Ridge K-5 Enrollment. Utilize elementary facility capacity efficiently to relieve over-capacity challenges at Hagan Elementary. Tentative Timeline March 2023: RSP completes 2022/23 Enrollment Analysis. March to April 2023: RSP begins drafting boundary concept(s) for Missouri Ridge Elementary (to serve K-5) April 2023: Administration provides feedback on Missouri Ridge boundary concept(s) April 26-27: Public input opportunities for feedback on Missouri Ridge boundary concept(s) May 2023: BOE approves Missouri Ridge boundary for implementation in 2023/24 school year.
Reminder that there is no school March 13th - 17th for all students! Enjoy your Spring Break!

Schools today face many challenges, not the least of which is communication. Ensuring accurate, timely and trustworthy communications with key stakeholders is integral to supporting student success. Because it is so important, Williston Basin School District #7 is administering the SCoPE Surveys, three surveys dedicated to evaluating the effectiveness of our communication with Faculty and Staff, Parents and Families, and the School Districts we serve. Please take a moment to complete this survey by February 16th:
https://survey.k12insight.com/r/xocLb1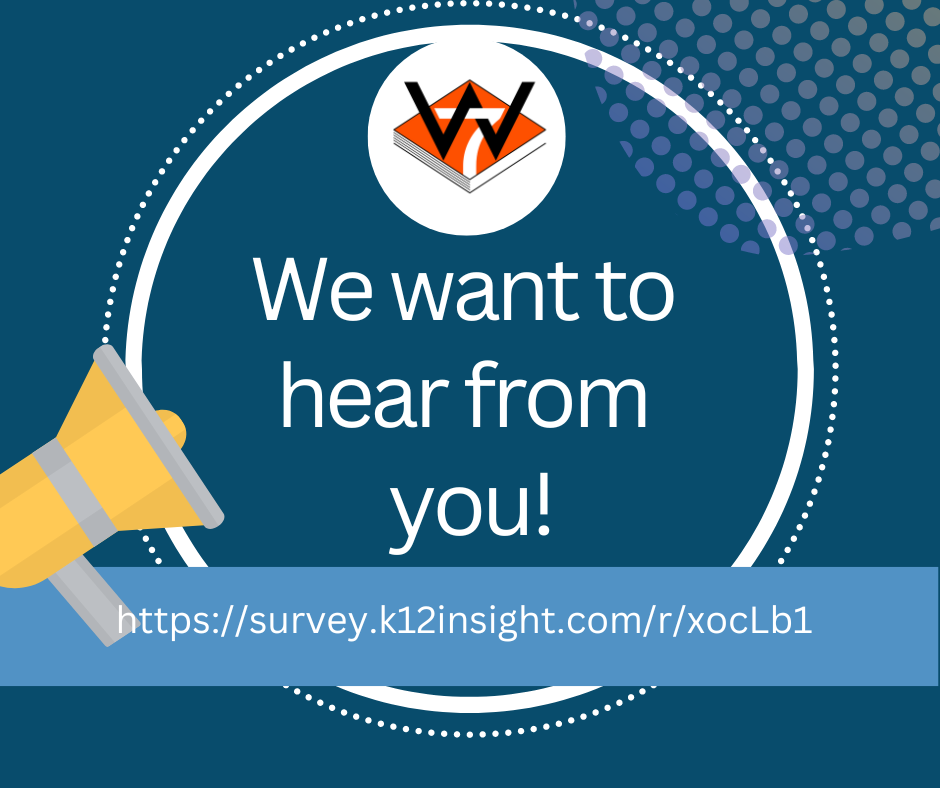 Feb. 6-10 is National School Counseling Week! We want to say THANK YOU to all of our School Counselors for all they do to help our student succeed!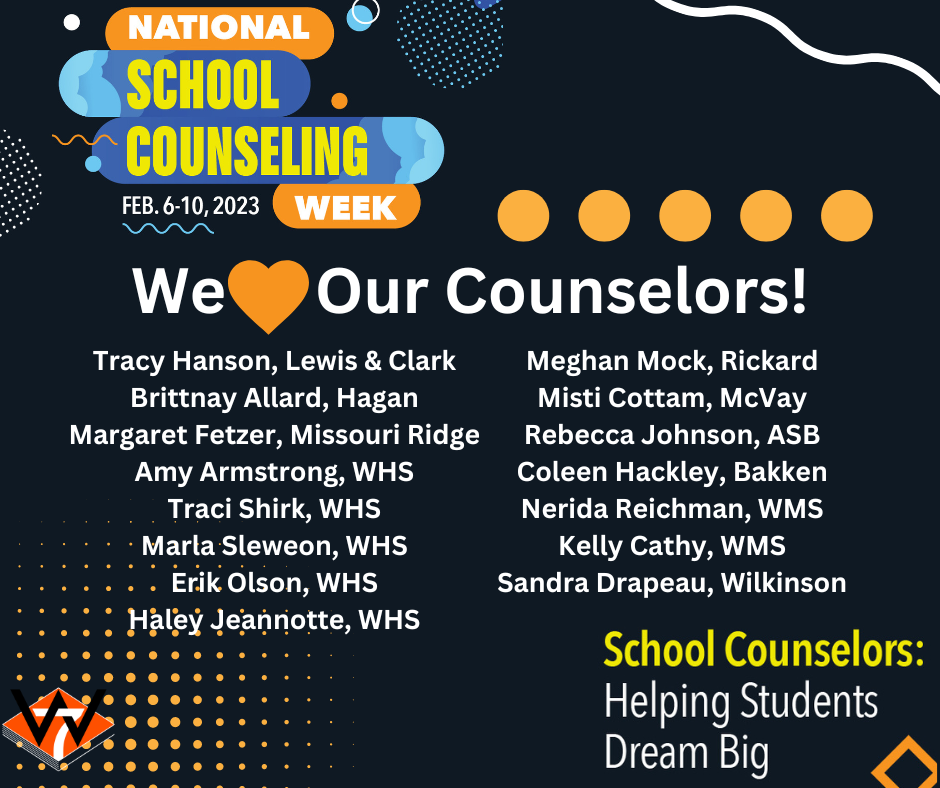 February's SEL Word of the Month is Acceptance. You are enough. "If you do something with acceptance and kindness, you can create a true friendship." Dustin Lance Black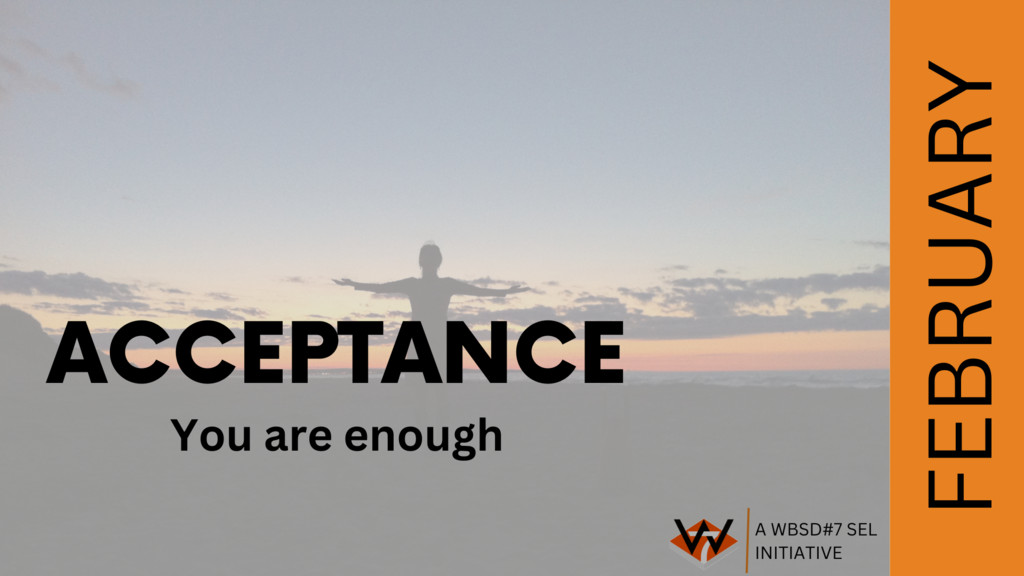 Today is the 100th Day of School! Only 72 more to go... but who's counting?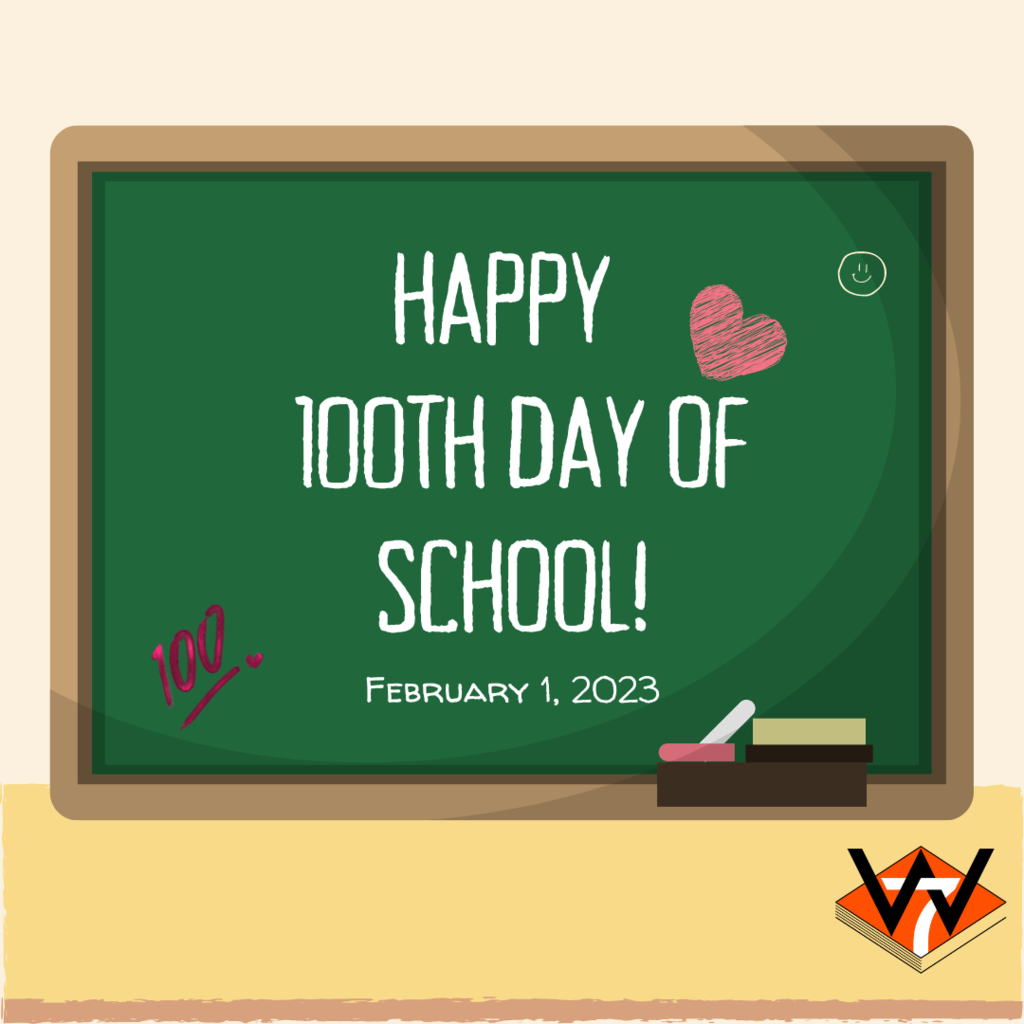 The Williston Basin School District and the Superintendent expect that all concerns be treated with respect. Parents/guardians are often discouraged when they attempt to communicate with central office administrators and school board members and are sent back to building-based officials in order to resolve a problem their child may be experiencing in school. To prevent that frustration, parents can become informed about the "chain of command," or where to begin the communication sequence regarding their problem or concern. Many parent and community questions are easily and completely answered by communicating directly with the educator in charge of the class or program. Each situation should first be addressed at whatever level the initial action was taken, with appeals moving on to the next level in the chain of command. The easiest way to communicate at the building level is via ParentSquare, email, or our Comments & Inquires Form; a phone call is the next preferable way. The easiest way to communicate for specific departments is our Comments and Inquiry form; an email or phone call is the next preferable way. Here at Williston Basin School District #7, we ask that you address any issues in the order as laid out in our Chain of Command process below. To review the page on the website please go to the District page – Menu - Chain of command.
https://www.willistonschools.org/page/chain-of-command

January's SEL Word is: Choice, Choice is the ultimate power. " We must all make the choice between what is right and what is easy." - Professor Dumbledore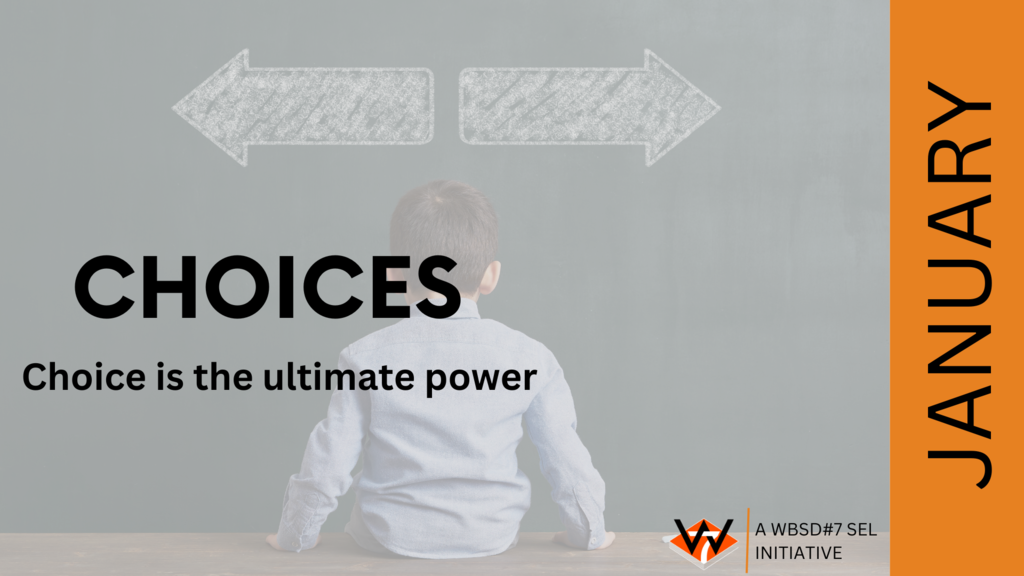 Due to the current and projected weather forecast and the road conditions, all WBSD7 buildings and offices will be closed for the rest of Thursday, 12/22/2022.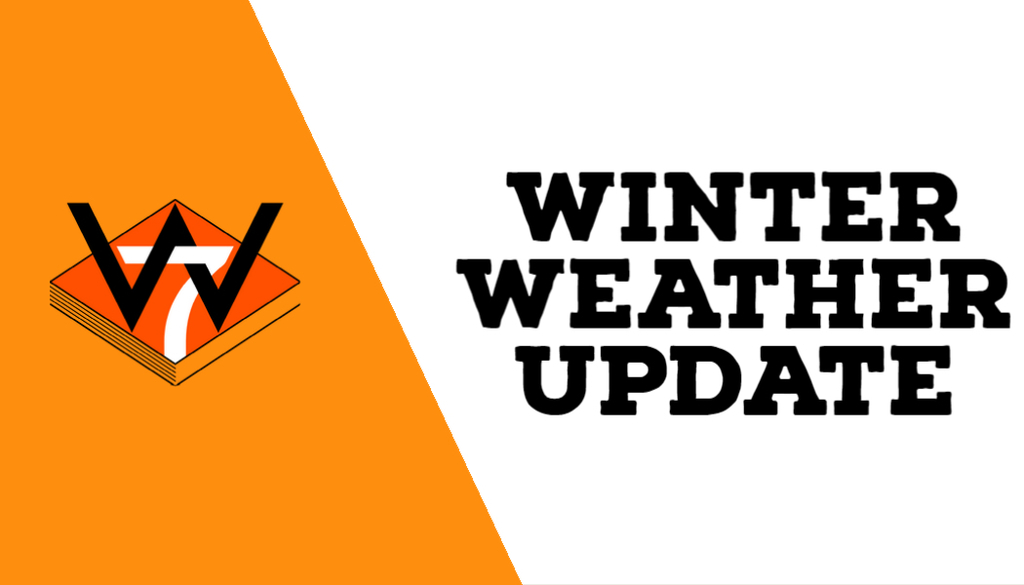 Reminder, there will be no school December 22-January 2 for Winter Break. We hope you all have a wonderful holiday break!

December's SEL Word is: ASPIRE The meaning of ASPIRE is to seek to attain or accomplish a particular goal (Mirriam-Webster). What have you accomplished this year?

All Williston Basin School District #7 Schools and Offices will be closed on Friday, November 11th in observance of Veterans Day. Thank you to all who have served.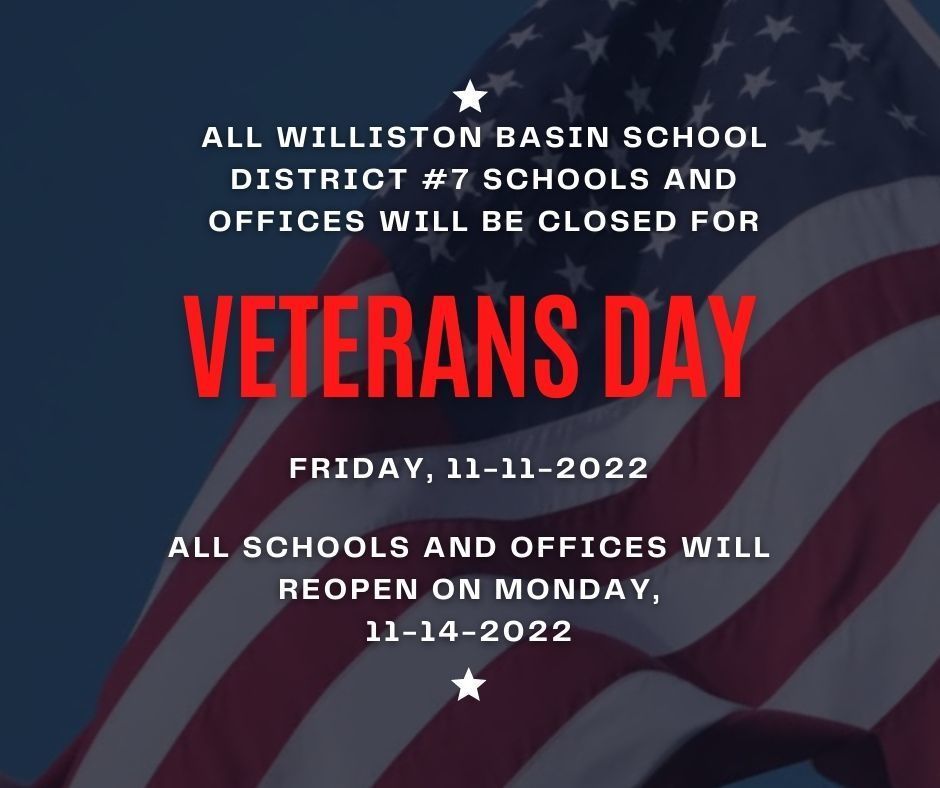 WBSD7 Food Drive! We are having a district-wide food drive next week! Please consider donating shelf-stable items such as canned fruits, canned veggies, macaroni and cheese, ramen noodles, peanut butter, instant oatmeal packs, cereal, breakfast bars, pop-tarts, Hamburger Helper, canned chicken, soup, instant mashed potatoes, etc. along with personal hygiene items. You can drop off your donations at any of our schools' main offices.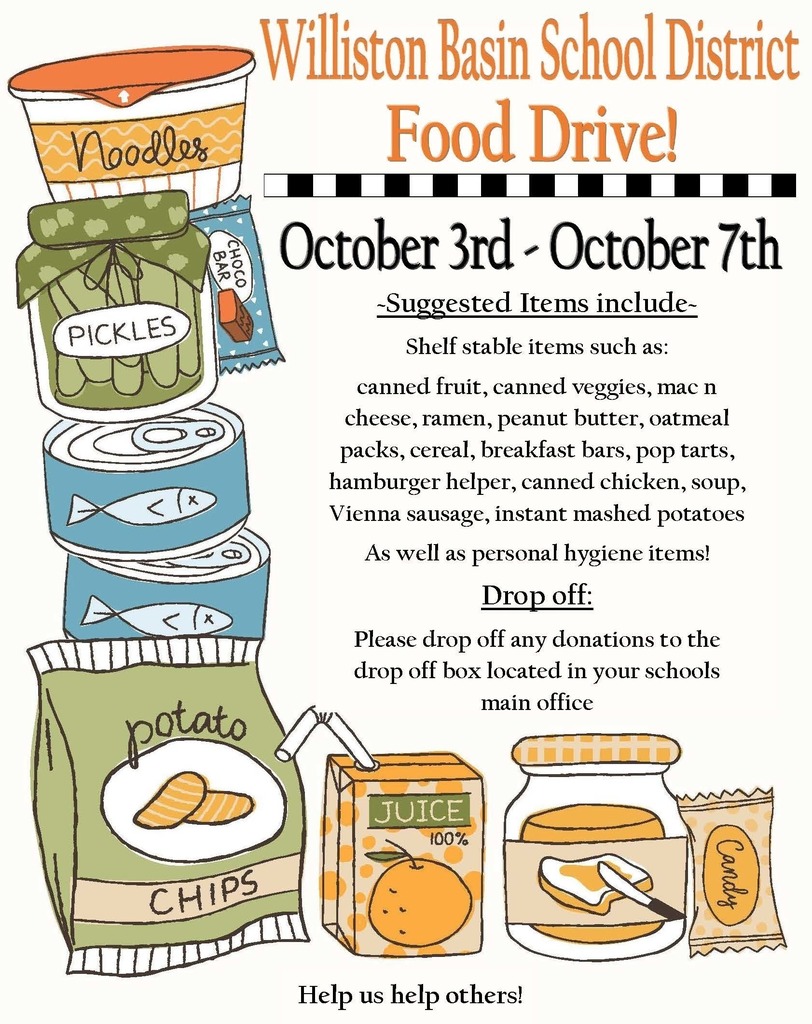 Reminder: All Williston Basin School District #7 schools and offices will be closed on Monday, September 5th in honor of Labor Day.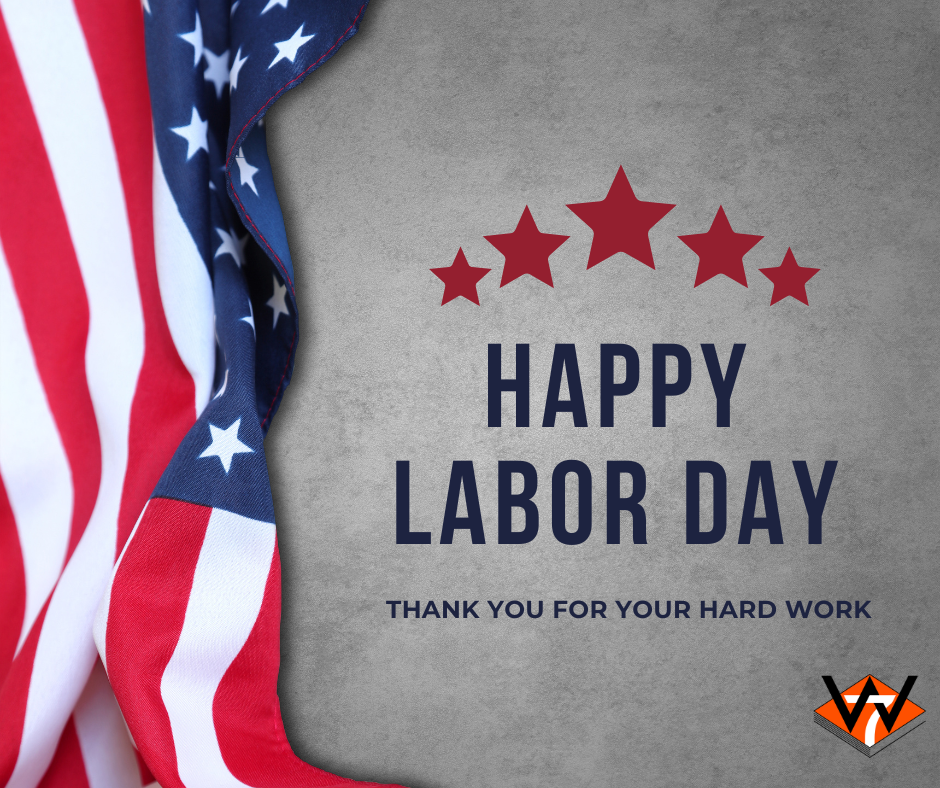 This week, the Williston Police Department will be conducting active shooter training at the Bakken Elementary and Williston Middle School buildings. During this time, the public is not allowed on either campus. Thank you @Williston Police Department North Dakota for your dedication to the safety of our students and staff.